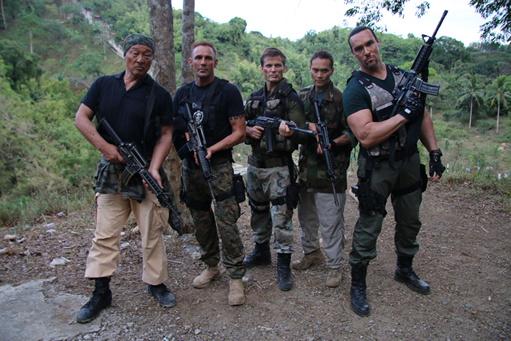 An upcoming action film will unite some of your favorite B-movie action heroes from the 1990's. They are all gathering for a Showdown in Manila.
The film marks the directorial debut of Mark Dacascos, the martial arts action star of films such as Only the Strong and Kickboxer 5: The Redemption. Many will know him as "The Chairman" on Food Network's Iron Chef America. The film is produced by Russian powerhouse Alexander Nevsky and Andrzej Bartrowiak, who directed Romeo Must Die and Cradle 2 The Grave.
Nevsky stars alongside Starship Troopers' Casper Van Dien as a pair of private detectives who must gather a band of daredevils to stop an international terrorist called The Wrath, who is involved with the duo's latest murder case. The supporting cast includes Cary-Hiroyuki Tagawa, Tia Carrere, director Mark Dacascos, Cynthia Rothrock, Matthias Hues, and Don "The Dragon" Wilson alongside Filipina actress Iza Calzado. Fight choreography was done by legendary martial artist Al Dacascos (Mark's father) and Sonny Sison.
Check out the one-minute teaser trailer below and prepare for a Showdown in Manila sometime later this year or early 2016.